----
OK, 1st, I'll put a little calendar here, to make things easier, so you can prep for them. Then other notes. (sept 29 2020)
------------------------------------------------------------------------------

= = = = APRIL = = = =

APRIL 15TH - MAY 15TH, DRY OR WET FEED DEPENDING ON THE TEMPERATURE AND MEDICATE (VARROA STRIPS IN OUR CASE)

= = = = MAY = = = =
WATCH OUT FOR SWARM CELLS, AND TRY AND MAKE SURE THE QUEEN ALWAYS HAS LAYING SPACE
MAY 15TH TAKE OFF WINTER PROTECTION, CLEAN OUT DEAD BEES
MAY 15 - JUNE 15TH BALANCE OUT HIVES AND REQUEEN OR SPLIT

= = = = JUNE = = = =

JUNE 1ST TAKE OUT OR STOP ALL MEDICATION
WATCH OUT FOR SWARM CELLS, AND TRY AND MAKE SURE THE QUEEN ALWAYS HAS LAYING SPACE

= = = = JULY = = = =

JULY 1ST PUT HONEY SUPERS ON, WITH QUEEN EXCLUDERS

= = = = AUGUST = = = =

PLAN (SET ASIDE) 1 OR 2 ENTIRE DAYS FOR HONEY EXTRACTION
AUGUST 1 - 15 ALL HONEY SUPERS ARE OFF, MEDICATE
AUGUST 20 START FEEDING

= = = = SEPTEMBER = = = =

SEPT 15 ALL FEEDING AND BEEKEEPING IS DONE, SEPT 30TH UNITE HIVES AND PUT ON WINTER PROTECTION
= = = = OCTOBER THROUGH ALL OF MARCH = = = =

DO NOT TOUCH, OPEN, MOVE, OR BOTHER THE HIVES
------------------------------------------------------------------------------
as a basic rule, it should be 15 degrees Celsius and not raining if you are going to beekeep
after seeing a lot of disease at the company I work for, and knowing that we are using all used hives from ones that died at that same company, even though we scorched them,
I think we should switch out all the deeps, and if we can even all the dadants in 2021.
that means we need at least 8 brand new deep boxes ready for may 1st, or whenever we take off the winter protection.
It is worth it.
Once the foul brood develops the entire hive with the bees has to be burned, and that is not nice.
We know we are taking a risk by using that equipment, we should eliminate the risk as fast as we can.
We started with nothing, and it was a logical decision to use that equipment, because we had to get to winter with 4 hives, and we have.
more notes coming . . .
------------------------------------------------------------------------------
(oct 16 2020)
a frame that is full of feed or honey, and also another picture of a frame that has brood and honey/feed.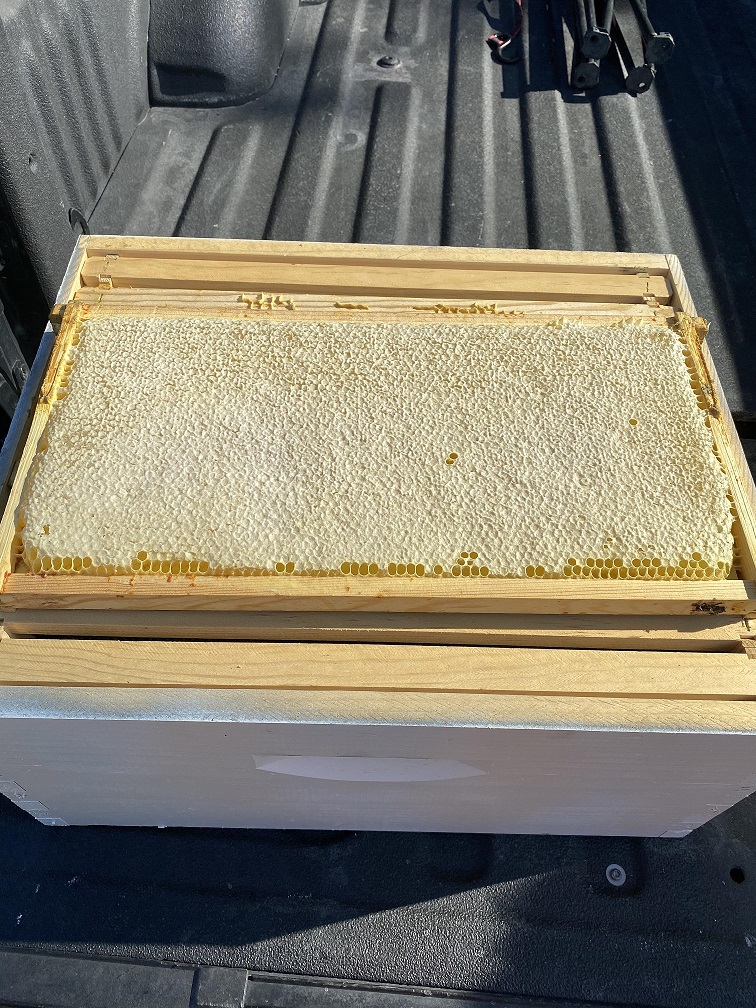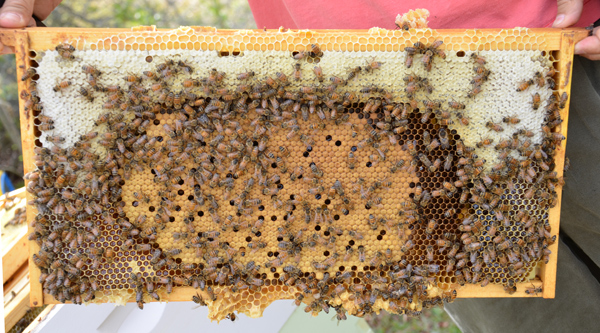 If you are getting stung by bees it is because you are doing something wrong, and the bees know it,
they don't sting because it is fun.
It is quite possible that bees know exactly what we are thinking and have decided to coexist with us in some sort of symbiotic relationship, and tolerate our stupidity . . . up to a point.
Bees can survive without cel phones, computers, electricity, gas, etc etc,
. . . in my opinion they are much smarter than contemporary humans, and smarter than most domesticated farm animals.
You can not leave dead bee equipment lying around outside, and the best thing to do with it, if you do not know what the bees died of, is burn it.
AFB survives 50 years buried underground,
it makes covid, which only survives a few days on a surface, look like nothing.
So this year, we made two big mistakes,
1 - we were playing with used equipment that bees died in, including leaving it lying around outside, and
2 - we didn't feed enough, because of course this year we started with all foundation, so they need way more feed than normal. I still think we will make it to spring next year with bees,
however, we have to switch out of all of our old equipment in spring. It is too late to do that now.
Also I hope to teach you how to make dry feed patties, and get those in the hive so that hopefully they can either take them up during winter, or they have them there in case of emergency in spring 2021.
If you have bees you need to set aside 2 hours every week for them, without exception.
If you can not do that, or you do not do that, your bees will not survive.
Bees live about 7 or 8 weeks during summer, and 6 or 7 months in a hibernation state during winter.
In strathcona county where are bees are now, they should get at least 40 kilos of surplus honey that we can take without hurting the hive, each.
Ideally if you do it correctly, they don't need very much feed in autumn, because they filled up with honey in their brood boxes in summer.
In a good year they can get up to 100 kilos. Basically apis melifera, agricultural honey bees on this continent, are from a Yugoslavia/Italy type climate.
They will not survive winter without protection.
The things to pay attention to for bees are:
1) starvation . . . this can happen at any time of the year.
2) swarming . . . this will leave your hives with not enough bees .
The queen always has to have a laying area for new brood. If not, they will swarm.
Healthy strong hives naturally produce swarms too, so in spring time, you should check for queen cells every time you get the chance.
3) disease
. . . varroa protection is done on a preventative medicine basis,
AFB medicine is optional for us now, as preventative medicine, and this year we did it,
because I had free access to the medicine and we used equipment we shouldn't have,
and there were many dead frames and boxes sitting on the ground the entire season near the hives,
a BIG NO NO.

So we did it as a precaution.
The vet in alberta charges 100$ just for the consultation if you want to get AFB (American Foul Brood) medicine next year.
It is much smarter to burn all the dead equipment, that bees died in, and get new equipment, and keep our eyes open to make sure that shit is not in the hives now.
If it shows up, the smart thing to do is burn the entire hive, with the living bees in it,
not a pretty sight.
< < : > >
Working bees is like those bomb detonation people that work for the cops. They do not show up at the site where a bomb has been found, in their hawaain shirt, sandles, and with just a beer, and ask the other cops what is going on.
If you are prepared, you have all your equipment, feed, medicine, whatever it is you are going to use, ready and near the hive,
before you go in.
You do it quick and easy, and get out as fast as possible.
The longer the hive is open, the worse it is for the hive.
Remember,
if the bees lose their patience,
they will kill the queen, it is called "balling" her.
You should never be on an exploratory mission.
Yes, you will have the opportunity to look for detailed things in the hive, but that is during other missions, like when you are feeding or medicating for example.
You should try not to go into the hives more than once every two weeks.
We were in the hives too many times this year because we were starting with nothing, catching swarms, etc etc.
Why did I write, 2 hours each week ?
The weeks you are not going into the hives, you should be preparing for what you are going to do next,
the equipment, medicine, feed etc.
I know you don't want to hear it,
but remember, once you have gotten past those first 40 stings, you have a higher resistance to the stings
and beekeepers live an average of ten to fifteen years longer than normal.
That is scientifically researched, proven, and reported.
Sure they hurt, but if you are not allergic to them,
and if you have been stung and are still alive, you are not allergic to them,

and they are good for you.
Swelling and pain is normal.
Smart beekeepers make the entire season easy, and enjoy the honey and experience.
Dumb beekeepers suffer a lot and their bees die.
Of course I have been in both of those categories.
If I had stayed in alberta, you would have seen in 2021 nice high quality beekeeping,
as it is, I like our bees, we have a nice 4 hive pallet once we switch out the boxes. more notes coming . . .
------------------------------------------------------------------------------
nov 08 2020
OK, basically a cell, is one of those little holes in a beeframe that the bees either go in, come out of, or put stuff in.

There are three types, and then sub types:

1) brood:
a} normal worker bees - normal size cells
b} drone bees - bigger cells
c} queen cells - very big and they hang off the bottom or come off the side of a frame and hang down.
2) honey or feed:
a} capped - full
b} uncapped - partially full
3) pollen:
a) full
b} partially full
4) empty cells:
a) drawn comb, which means they have made the full cell,
also called "drawn comb"
b) foundation - just the wax we have put in, they haven't modified it yet

next time you are in the hive, take a look and try and define what each type of cell is that you see.

for us pro beekeepers this explanation seems ridiculously silly and super easy,
however now that I try and remember what it was like when I was starting, this all seemed like some sort of mystical advanced science

it is not
just takes a bit of practice

this is essential too, it makes everything else super easy once you can recognize all the cells you are seeing quickly
------------------------------------------------------------------------------

here's two quick videos from the 2020 season, catching a swarm and our winter bee apartment:

more notes coming . . .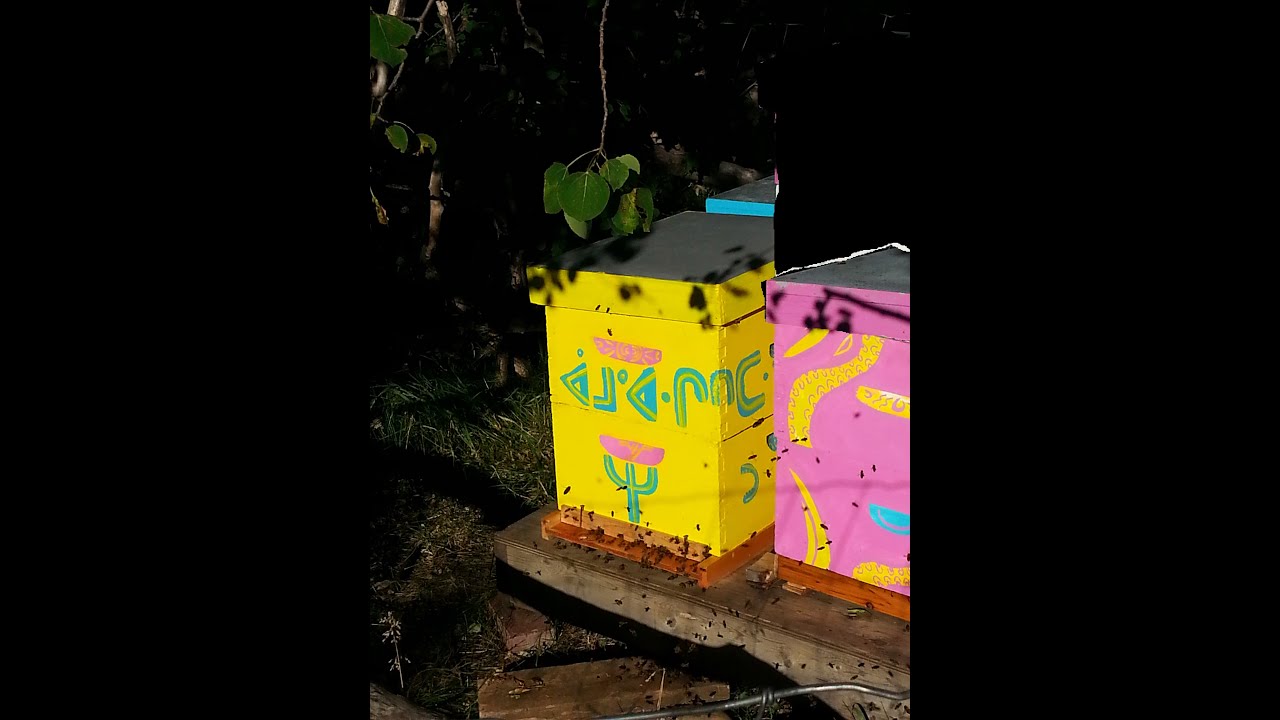 ====================== WINTER 2020 (dece 21) ======================
OK, as I mentionned, . . . about a month ago, maybe more, on a sunday in the morning, it occurred to me that there were about 14 things to do, so that the beez are in good shape, before the end of our year.

I count our year as starting june 01 2020 . . . of course it was around then that we first got our two nucs.

This was written like the instructions paper you get, for assembling something new you got, that was made in a factory.

It is not written as a personal letter or whatever, it's basically like a mechanical instruction on how to put something together.

It's in consecutive order, so that things logically work together. It was written as if I was talking to myself, which, essentially I was doing, as I wrote it.


====================== ********** ======================

1 – THROW OUT OR BURN THE OLD DISEASED/DEAD FRAMES YOU HAD COLLECTED FROM ANOTHER BEEKEEPER.
2 – PUT TOGETHER THE 11 NEW BOXES. GLUE THEM WITH WOOD CARPENTER GLUE, BEFORE NAILING THEM TOGETHER. ALWAYS CHECK THAT THEY ARE SQUARE, WITH THE METAL SQUARE TOOL THAT YOU HAVE THERE IN YOUR BARN. IF THEY ARE NOT YOU HAVE TO BANG OR PUSH THEM TO SQUARENESS, BEFORE PUTTING THE NAILS IN THEM. THE NEW BOXES HAVE PRESET HOLES IN THEM WHICH MAKE IT REALLY EASY TO HAMMER THEM TOGETHER. THE CORRECT NAILS I ALSO LEFT YOU THERE. IF YOU CAN'T FIND THEM, LET ME KNOW.
3 – PAINT THEM WHITE. ONCE THAT COAT IS DONE (DRY), PAINT THEM THE COLOURS, PINK, YELLOW, AND BLUE, AND A SECOND COAT OF WHITE ON THE FINAL BOX. WHEN THEY ARE DONE, THEY ALL HAVE 2 COATS OF PAINT.
YOU ALREADY HAVE A DADANT SIZED BOX THAT IS WHITE COLOUR, A NEW ONE THAT CAME WITH YOUR KIT. THE OTHER THREE DADANTS THAT YOU JUST PUT TOGETHER GET PAINTED ONE OF THE THREE COLOURS, SO WHEN YOU ARE DONE, AS FAR AS NEW EQUIPMENT GOES, WE HAVE 2 DEEPS, AND ONE DADANT OF BLUE, PINK, YELLOW AND WHITE EACH.

4 – MOVE ALL OF OUR FRAMES INTO THE NEW PAINTED BOXES. THE ONES THAT WERE PUT TOGETHER AND/OR USED IN 2020. INCLUDING THE ONES THAT HAVE NO WAX IN THEM.
5 -  DESTROY (BURN OR THROW IN YOUR DUMPSTER) ALL THE OLD DISEASED/DEAD  BOXES, THAT I HAD COLLECTED FROM ANOTHER BEEKEEPER.
DESTROY  (BURN OR THROW IN YOUR DUMPSTER) ALL THE OLD DISEASED/DEAD  BOXES, THAT YOU COLLECTED FROM ANOTHER BEEKEEPER.
YOU MENTIONNED THAT YOU WANTED TO USE SOME AS SHELVES. IF THEY ARE GOING TO BE OUTSIDE, YOU CAN'T DO THAT. YOU ALSO CAN'T USE THEM AS PLANTERS ETC.
BEES ARE ATTRACTED TO AND WILL CHECK OUT WOOD THAT HAS THE SMELL OF WAX, PROPOLIS, OR PREVIOUS BEE USE ON THEM.
IF THEY HAVE FOUL BROOD SPORES ON THEM, WHICH FOR SURE SOME OF THEM DO, THEN THEY CAN BRING THAT BACK TO THE HIVES, AND WITHIN A YEAR OR TWO, YOU'VE LOST THE OVER 3000$ WORTH OF BEES WE NOW HAVE.
FOR A PLANTER OR SOME SHELVES OUTDOORS ? THEY DIDN'T COST US ANYTHING TO GET, SO IT DOESN'T COST US ANYTHING TO BURN THEM. A LESSON LEARNED, AND HOPEFULLY LEARNED ON TIME. TIME WILL TELL.
BURNING THEM IS THE FASTEST AND EASIEST. BECAUSE THEY HAVE WAX EMBEDDED IN THE WOOD, EVEN IN THE COLD WINTER WEATHER, ONCE THEY GET FLAMES ON THEM, THEY BURN REALLY FAST.
THE AMERICAN AND EUROPEAN FOUL BROOD SPORES CAN LIVE 50 YEARS, BURIED UNDERGROUND, ON THE WOOD OF PREVIOUSLY DISEASED BOXES. OVERGROUND THEY ARE EVEN MORE OF A RISK TO OUR BEES.
6 – MAKE A COMPLETE INVENTORY, WRITE IT DOWN, AND DATE IT. HOW MANY DEEP BOXES, HOW MANY DADANT BOXES, HOW MANY ROOFS, HOW MANY FLOORS, INNER BOARDS ETC ETC. EVERY PIECE OF EQUIPMENT SHOULD BE ON YOUR LIST, WITH QUANTITIES OF EACH, INCLUDING FRAMES ETC.
HONESTLY I STILL BATTLE WITH MYSELF, WHETHER WE SHOULD KEEP THE METAL QUEEN EXCLUDERS THAT I SPENT A LOT OF TIME TRYING TO CLEAN UP. THE INTELLIGENT THING IS TO GET RID OF THEM, THROW THEM IN THE DUMPSTER.
I HATE THROWING THEM AWAY, WHEN I NEED THEM. HOWEVER, IN REALITY THEY CAME FROM DEAD HIVES, AND WERE COVERED IN WAX FROM THOSE DEAD HIVES. THROW THEM AWAY.
7 – ONCE YOU'VE FINALLY GOTTEN HERE, NOW YOU HAVE MORE SPACE, AND ONLY ESSENTIAL EQUIPMENT. NEXT SPRING YOU WILL SWITCH OUT THE 8 DEEP BOXES WITH OUR LIVING HIVES, AND THEN GET RID OF THOSE BOXES, THE OLD ONES FROM ANOTHER BEEKEEPER, THAT DIED, THAT I BROUGHT.
THIS LAST SEASON, ESPECIALLY IN FALL, WHILE PICKING UP DEAD HIVES FROM THE OPERATION WHERE I WORKED, I NOTICED THAT THERE WERE MANY THAT HAD DIED OF FOUL BROOD, THAT PREVIOUSLY SOMEONE HAD SCORCHED THE INSIDE OF THE BOXES, LIKE WHAT WE WERE DOING.
I HAVE ALSO READ THAT SCORCHING THE BOXES IS NOT A GOOD IDEA BECAUSE THERE STILL IS A SMALL AMOUNT OF THE SPORES IN THE BOXES. EVEN IF WE DESTROYED 95% OF THE SPORES SCORCHING THEM ON THE INSIDE, THAT 5% LEFT OVER, IS ENOUGH TO START THE PROBLEM ALL OVER AGAIN.
THE PEOPLE THAT TOLD ME AT WORK THAT SCORCHING THEM WAS OK, DO NOT HAVE GREAT BEEKEEPING OPERATIONS. IN FACT, A LOT OF THE OLD EQUIPMENT WE HAD AT WORK, THAT HAD SCORCHED BOXES, CAME FROM ANOTHER BEEKEEPER THAT KILLED HIMSELF AND HIS WIFE. THIS IS THE CRAZY STUFF I LEARN AFTER THE FACT.
OUR BEEKEEPER, THE OPERATION WHERE I WAS WORKING, LOST AT LEAST 10-20% OF HIS 6000 HIVES, IN ONE YEAR TO FOUL BROOD.
EVERY YEAR WE WOULD PUT TOGETHER AND PAINT NEW EQUIPMENT, WHICH IS ALSO WHAT THIS GUY IS DOING NOW IN WINTER.
IF THIS GUY HADN'T MEDICATED HIS HIVES THIS LAST FALL, HE WOULD HAVE LOST HIS ENTIRE OPERATION WITHIN THE NEXT 3 OR 4 YEARS. BECAUSE THIS GUY IS NOT DESTROYING HIS DISEASED EQUIPMENT, HE EITHER USES IT IN OTHER HIVES, OR GIVES IT AWAY OR SELLS IT TO STUPID BEEKEEPERS, HE IS SPREADING THE DISEASE AND HE HAS NO CHOICE BUT TO MEDICATE WITH OXYTETRACYCLINE TWICE A YEAR.
IF HE DOESN'T MEDICATE IN THE FUTURE, THE PROBLEM WILL FLAIR UP AGAIN, BECAUSE THE SPORES DON'T MAGICALLY GO AWAY, AND HE HAS A LOT OF IT IN HIS OPERATION.
THE MEDICATION IS EXPENSIVE, AND FOR BEEKEEPERS LIKE US, WE NEED TO BE SMART SO THAT WE ACTUALLY PROFIT, AS SOON AS POSSIBLE. THE FIRST COUPLE OF YEARS YOU ARE BUSY BUYING AND PUTTING TOGETHER EQUIPMENT, AND FEEDING MORE SUGAR THAN USUAL. DISEASE THAT APPEARS IN THE 3RD OR FOURTH YEAR PUTS YOU BACK TO SQUARE ONE.
8 – START GLUING AND HAMMERING TOGETHER WITH NAILS, AND WHITE CARPENTERS GLUE, THE NEW FRAMES.
I HAVE A LOT OF THEM IN BOXES, IN PIGEON LAKE, SO ONCE YOU HAVE TAKEN CARE OF #'S 1-6, LET ME KNOW, AND WE WILL WORK OUT HOW YOU GET THE FRAMES THAT I BOUGHT NEW IN 2020.
THEY ARE ALL INSIDE A FROZEN CABIN THAT HAS A LOCKED DOOR ON IT, SO YOU DON'T HAVE TO WORRY ABOUT COVID ETC TO GET THEM. I WILL GIVE YOU A REALLY GOOD MAP WITH PHOTOS, AND WE WILL MAKE SURE THE KEY IS THERE BEFORE YOU GET THERE. IT TAKES AN HOUR 15 MINUTES TO DRIVE FROM YOUR PLACE TO THE CABIN IN PIGEON LAKE.
I THINK THERE ARE SOME ASSEMBLED NEW FRAMES THERE TOO. ALL THE BEE STUFF IS ORGANIZED AND IN ONE SIMPLE PLACE SO IT WILL BE EASY TO PICK UP.
DON'T ASSEMBLE MORE THAN 10 FRAMES WITH GLUE BEFORE HAMMERING THEM TOGETHER WITH NAILS.
ALWAYS DROP THEM IN AN EMPTY BOX TO MAKE SURE THEY ARE SQUARE, THAT THEY FIT IN CORRECTLY, BEFORE NAILING THEM.
CONSIDERING ALL THE DISTRACTION THAT YOU HAVE, AND THAT MAYBE ONE OF YOUR KIDS MIGHT ALSO BE HELPING YOU, I WOULD GLUE TOGETHER FOUR, AND THEN GET THE NAILS IN THEM AS QUICK AS POSSIBLE. I LEFT THE CORRECT SIZE NAILS WITH THE PAINT I LEFT THERE FOR YOU. IF YOU CAN'T FIND THEM, LET ME KNOW.
CHECK ASSEMBLED FRAMES THAT I ALREADY PUT TOGETHER BECAUSE IT IS 2 NAILS ON EACH SIDE ON THE TOP BAR, AND I THINK ONE ON EACH SIDE OF THE BOTTOM CORNERS. BY LOOKING AT ASSEMBLED FRAMES IT WILL BE REALLY OBVIOUS.
THIS NAILING COUNT AND ROUTINE IS IMPORTANT BECAUSE ONCE YOU GET TO THE MAGICAL TIME OF HONEY EXTRACTION THE FRAMES HAVE TO WITHSTAND THE EXTRACTION PROCESS. A STRONG FRAME WILL LAST YOU MANY YEARS, A WEAK ONE WILL COME APART WHEN YOU ARE TRYING TO MOVE IT INSIDE A HIVE AND CREATES A LOT OF PROBLEMS.
9 – DRILL HOLES IN THE FRAMES. WE HAVE A CARDBOARD TEMPLATE, AND IT IS VERY EASY TO PUT ONE TOGETHER IF YOU DON'T FIND EACH OF THE TWO SIZES IN THE NEW EQUIPMENT, AT PIGEON LAKE.
ONCE YOU GET HERE, TO #9, I CAN GIVE YOU DETAILS, LIKE HOW TO MAKE THE CARDBOARD TEMPLATES IN 10 MINUTES.
10 – WIRE YOUR FRAMES. THERE ARE TWO SPOOLS OF NEW WIRE AT PIGEON LAKE. YOU WANT THEM AS TIGHT AS YOU CAN GET THEM. YOU MIGHT REMEMBER THE WAY I WOULD PLAY THE STRINGS LIKE A GUITAR WHILE I WAS TIGHTENING THEM.
ONCE YOU GET THIS FAR, LET ME KNOW AND IT IS PRETTY EASY TO SHOW YOU VIA VIDEO HOW TO WIRE THEM TIGHT, IF THIS GETS TRICKY.
I USE THE WIRE HEATING APPARATUS WHICH I WOULD KEEP A ROLL OF WIRE MOUNTED ON THE TOP OF IT, WHICH MADE IT A LOT EASIER TO PULL WIRE OUT TO PUT IN THE FRAMES, WITHOUT THE ROLL OF WIRE GOING CRAZY.
11 – EMBED THE WAX. I LEFT A LOT OF NEW WAX IN BOXES AT PIGEON LAKE. FIRST EMBED ANY AND ALL DEEP FRAMES YOU HAVE, THEN ALL THE DADANT FRAMES.
BASICALLY YOU PUT THE WAX IN THE BOTTOM SLOT, THEN THE TOP SLOT, AND LAY IT FLAT ACROSS THE WIRE.
IF IT IS FOR A DADANT FRAME, YOU NEED TO CUT THE WAX TO SIZE FIRST. YOU DO THIS BY LAYING IT FLAT ON A PIECE OF WOOD, AND THEN WITH LINES YOU HAVE MARKED ON THE WOOD, RUN A CUTTER OR VERY SHARP, OR HOT KNIFE ACROSS. I FOUND A CUTTER WITH A BIG WIDE BLADE ON IT WAS EASIEST.
NOW THAT I THINK OF IT, YOU GUYS HAVE BIG METAL "SQUARE"S, A TOOL FOR WOODWORKING, IN YOUR BARN . . . ONE OF THOSE WOULD WORK GREAT FOR CUTTING DADANT SIZED WAX SHEETS WITH A BIG BLADE CUTTER.
I LEFT A WOODEN MINI TABLE/TEMPLATE WITH NAILS ON IT, THAT YOU SET THE FRAME INSIDE/ONTO, THEN ATTACH THE TWO WOODEN STICKS WITH THE ELECTRICAL WIRE AND NAILS ON IT TO, TO ELECTRIFY AND HEAT THE WIRE SO THAT THE WAX ATTACHES TO THE WIRE.
OF COURSE YOU HAVE TO WATCH THE WAX, SO THAT YOU DON'T ELECTRIFY THE WIRE TOO LONG. IF IT HEATS UP TOO MUCH, IT CUTS THE WAX INTO PIECES THAT FALL ALL OVER THE PLACE, AND WRECK WHAT YOU WANTED TO DO. I KNOW YOU CAN DO IT PROPERLY, IT IS PRETTY EASY WITH THE APPARATUS I MADE.

SO, ONCE THE WAX IS IN THE SLOTS, YOU LAY IT ON THE LITTLE HEATING TABLE, THEN YOU ATTACH THE TWO POSTS THAT ARE ELECTRIFIED, SO THAT THE WAX CONNECTS WITH THE HEATED WIRE.
OF COURSE THE DEVICE THAT I MADE FOR HEATING WIRES IS ALSO AT PIGEON LAKE, YOU WILL FIND IT REALLY NICE AND EASY, AND BASICALLY ONCE YOU HAVE DONE ONE OR TWO FRAMES, YOU WILL KNOW HOW YOU WANT TO POSITION EVERYTHING.
ONCE YOU HAVE PLUGGED IT IN, TOUCH THE TWO POINTS OF EACH OF THE TWO STICKS TOGETHER (THEY ARE NAILS AT THE END OF THE STICKS) AND IF THEY SPARK, IT IS ON, IF NOT, YOU NEED TO TURN THE SWITCH TO TURN IT ON.
THIS THING IS NOT DANGEROUS SO DON'T FREAK YOURSELF OUT. THAT CONE CERAMIC THING WITH THE HEATING ELEMENT REDUCES THE AMOUNT OF ELECTRICITY.
I WOULD SAY THAT ONLY YOU OR CORBIN SHOULD USE IT FOR NOW. YOU WILL SEE THAT THE APPARATUS HAS WOOD AROUND THE CERAMIC CONE, BECAUSE OF COURSE THAT THING HEATS UP AND YOU DON'T WANT TO BURN ANYTHING OR YOURSELF WITH IT.
IF YOU HAVE ANY QUESTIONS ABOUT THIS THING TAKE A PICTURE OF IT, AND SEND IT TO ME VIA FACEBOOK. I DON'T HAVE MESSENGER ON MY PHONE THAT CAN RECEIVE PICTURES PROPERLY, AS I DON'T PAY FOR DATA ON MY PREHISTORIC PHONE.
FACEBOOK OR WHATSAPP IS THE PLACE TO SEND ME IMAGES.
WHEN I USED IT I WOULD KEEP A SPOOL OF WIRE ON IT, WHICH MADE WIRING THE FRAMES EASIER, THAT IS YOUR OPTION, IF YOU WANT IT ON THERE ON NOT.
12 – SO NOW YOU SHOULD TAKE A COUNT AGAIN, INVENTORY, OF HOW MANY FRAMES YOU HAVE WITH EMBEDDED WAX, ETC ETC. AT THIS POINT YOU CAN FIGURE OUT IF YOU NEED ANYMORE FRAMES, WAX, OR WIRE FOR 2021.
THE SOONER YOU KNOW THIS, THE EASIER THE YEAR WILL BE. THIS PART, THE WINTER STUFF LIKE MAKING FRAMES ETC, TAKES A LOAD OF TIME, SO IF IT IS DONE EARLY, LIKE BY THE MIDDLE OF FEBRUARY, YOU CAN RELAX.
IF YOU WAIT TILL APRIL TO GET IT DONE, YOU MIGHT GET INTO TROUBLE. KEEPING LOTS OF EMPTY FRAMES IN YOUR BOXES PREVENTS SWARMING. THEY CAN SWARM AS EARLY AS MID TO LATE MAY IF YOU ARE NOT BEEKEEPING PROPERLY.
THIS LAST YEAR 2020, I ACTUALLY PAID KARINA TO ASSEMBLE AND WIRE FRAMES FOR US, BECAUSE IT JUST TOOK UP TOO MUCH OF MY TIME, WHILE WORKING A FULL TIME JOB WITH TOO MANY OVERTIME HOURS.
13 - FEEDING THE BEES DRY SUGAR PATTIES IN WINTER, AND THEN LIQUID FEED IN THE SPRING.
YOU ALREADY HAVE IT WRITTEN OUT SOMEWHERE HOW AND AT WHAT TEMPERATURES TO DO THIS.
OBVIOUSLY, IF YOU HAVE ANY QUESTIONS, PLEASE ASK. RIGHT NOW YOU SHOULD HAVE AT LEAST 4 BIG PATTIES, ONE FOR EACH HIVE, READY IN YOUR FRIDGE OR FREEZER, SO THAT IF IT GETS TO BE A REALLY WARM WINTER DAY, YOU CAN QUICKLY OPEN THE HIVES TO SEE IF THEY HAVE FINISHED THE PREVIOUS PATTIES OR NOT. IF YOU DON'T HAVE THEM, THEN THEY ARE POINT #2 IN THIS LIST.
14 – MEDICATE WITH THE APIVAR STRIPS IN SPRING. IT IS IMPORTANT TO HAVE THE STRIPS ABOUT A MONTH OR 6 WEEKS BEFORE YOU WILL USE THEM, LIKE APRIL 1ST, IN CASE THE CO-OP IS OUT OF THEM, THERE IS TIME FOR NEW ONES TO GET THERE ONCE YOU ASKED FOR THEM APRIL 1ST.
THIS IS SOMETHING THAT HAS TO BE ON TIME WITH NO EXCEPTIONS. WITH 12 STRIPS TOTAL YOU HAVE ALL YOU NEED FOR SPRING. IF YOU WANT TO BUY FOR FALL TOO, YOU WILL NEED ANOTHER 12 AND THEY NEED TO BE STORED IN A COOL, DARK PLACE, NOT WHERE THERE IS FOOD AROUND.
side note:
ACTUALLY, NOW THAT I THINK OF IT, BEEKEEPING IS 90% PREPARING FOR WHAT IS TO COME, AND BEING ON TIME.
THE BEES ARE FAST, AND CAN DO PRETTY WELL WHATEVER THEY WANT.
I GUESS IT MAKES SENSE FROM THEIR PERSPECTIVE THAT IF THEY SEE THAT YOU HAVE GIVEN THEM FRAMES AND SUGAR, AND THEY FOUND AT LEAST SOME NECTAR AND POLLEN THE PREVIOUS YEAR, THAT THEY SHOULD KEEP ON GROWING.
THE PROBLEM OF COURSE IS THAT THEY DO STARVE TO DEATH, IT IS A REALLY SAD THING TO SEE, AND OF COURSE YOU HAVE TO CLEAN OUT THE HIVE OF ALL THE DEAD BEES.
IT IS A COMMON THING FOR BEEKEEPERS THAT HAVE MORE BEEHIVES THAN THEY CAN GIVE PROPER ATTENTION TO.
FOUR HIVES ARE PRETTY EASY TO DO, WITHOUT THE HONEY EXTRACTION.
THAT IS SOMETHING YOU ARE NOT READY FOR IN 2021, AND IT IS NOTHING TO WORRY ABOUT, IF YOU DO HAVE SOMEONE YOU CAN DELIVER THE HONEY FRAMES TO, FOR EXTRACTION.
IF WE STILL HAVE HIVES IN AUGUST 2021, YOU CAN BE SURE THAT WE WILL MAKE SURE THAT THEY ARE FED SO THAT WE DON'T HAVE TO WORRY ABOUT THEM OR PLAY AROUND WITH THEM LIKE WE HAVE BEEN DOING THIS FALL/WINTER.
OUR GOAL IS TO GET ALL OUR EQUIPMENT DONE, AND STORED PROPERLY, SO THAT DURING THE ENTIRE YEAR, YOU DON'T HAVE TO SPEND A LOT OF TIME AND MONEY PUTTING TOGETHER EQUIPMENT. THE FIRST TWO YEARS ARE THE HARD ONES, AND YOU ARE TRYING TO SET THINGS UP SO THAT THE THIRD AND FOURTH YEAR ARE VERY EASY AND AUTOMATIC.
15 – GET QUEEN EXCLUDERS AND BE READY TO SUPER WITH DADANTS BEFORE JUNE 1ST. THE ONLY METAL EXCLUDERS WORTH HAVING ARE THE TYPE WE HAVE THAT CAME FROM SOME DEAD HIVES.
THAT SPECIFIC STYLE AND METAL ETC.
I KNOW THEY SELL MANY DIFFERENT STYLES INCLUDING PLASTIC ONES, ALL OVER THE PLACE. THEY ARE ALL GARBAGE EXCEPT THE STYLE WE HAVE RIGHT NOW. THAT'S PROBABLY WHY I TRIED SO HARD TO KEEP THEM. ANYWAYS, WE NEED 4 OF THOSE NEW.

ONE IDEA THAT IS A GOOD IDEA, IS TO BE CAREFUL TO USE A SPECIFIC LID, QUEEN EXCLUDER, AND SUPERS, FOR A SPECIFIC HIVE.
IF YOU WANT TO GET REALLY REALLY GOOD, EVEN THE FRAMES ARE ONLY FOR ONE SPECIFIC HIVE. BASICALLY YOU DON'T MIX ANY EQUIPMENT BETWEEN HIVES.
THE ENTRANCE BLOCK, FRAMES, SUPERS, LIDS ETC FOR THE BLUE HIVE, WERE ONLY EVER USED ON THE BLUE HIVE. IF ONE OF THE HIVES GETS FOUL BROOD, YOU HAVE A MUCH BETTER CHANCE OF THE OTHER HIVES NOT HAVING IT THAT WAY.
 . . . OK, BACK IN OCTOBER AND NOVEMBER, I THOUGHT: I ONLY WILL TELL HER TO PUT TOGETHER HER SUPERS,  . . . THEN . . . WE CAN GO TO THE NEXT STEP.

I DIDN'T WANT TO FREAK YOU OUT WITH A HUGE PILE OF THINGS TO DO, AND I ALSO WANTED TO SEE IF YOU WERE REALLY SERIOUS. IF YOU ARE NOT SERIOUS, THERE IS STILL TIME FOR ME TO GET ALL THE EQUIPMENT AT PIGEON LAKE SENT TO NANAIMO AND I CAN DO MY OWN HIVES HERE IN SPRING.
WE WILL SEE WHAT HAPPENS AS TIME GOES BY.
TRUST ME, PUTTING TOGETHER THOSE FRAMES AND EMBEDDING THE WAX, TAKES A LOT OF TIME.
NOW I KNOW THAT FOR THE FIRST YEAR, AND A GOOD PART OF THE SECOND YEAR, WITHOUT DOING HONEY EXTRACTION, 2 HOURS A WEEK, FOR 4 HIVES IS A REALISTIC PLAN.
TIME WILL CONTINUE TO MARCH FORWARD. IF THINGS ARE DONE PROPERLY, EVENTUALLY YOU WILL GET TO THE THIRD YEAR, YOU HAVE ALL YOUR EQUIPMENT READY AND IT IS WAY EASIER TO DO YOUR BEEKEEPING AND YOU ARE NOW GETTING DECENT HONEY, AND NOT SPENDING A LOT OF MONEY.
WE WILL SEE WHAT HAPPENS. THE COOL THING FOR ME IS THAT I WAS TRUE TO MY WORD TO TRY AND HELP YOU AND SET UP THE BEES PROPERLY.
WHEN I FIRST COMMITTED  I HAD = N.O. = = I. D. E. A. = IT WOULD BE THIS MUCH WORK AND MONEY TO START PROPERLY. HOWEVER WE ARE OFF TO A GREAT START RIGHT NOW. EVEN IF THINGS ARE DONE PROPERLY IN THE THIRD YEAR, YOU MIGHT HAVE BEES TO SELL, WHICH OF COURSE BRINGS IN MORE MONEY TO COVER COSTS.
OK, I THINK FOR THE SECOND YEAR, TO BE UP TO PAR, TO MAKE SURE THAT THE GAME DOESN'T GET AHEAD OF US, I FIGURE WE SHOULD HAVE 4 DADANTS WITH FRAMES IN THEM, FOR EACH HIVE, BY JULY 15TH,, 2021.
BY AUGUST 15TH WE WILL SEE IF THEY FILLED THEM ALL, OR NOT. EVENTUALLY FOR 2022, IF ALL GOES WELL, AS IT SHOULD, WE NEED 8 DADANTS TOTAL FOR EACH HIVE FOR HONEY SUPERS.
WHERE I WORKED IN 2020 I SAW HIVES THAT FILLED 7 DEEPS OF HONEY. THEY ARE NOT ALL THAT GOOD, BUT THAT IS ABOUT THE EQUIVALENT OF 13 DADANTS, FOR JUST ONE HIVE.

OF COURSE WE ARE USING NEW WAX FOUNDATION, WHICH TAKES A LOT OF HONEY FOR THE BEES TO TURN INTO REAL COMB, SO AGAIN, WE DON'T NEED 13 DADANTS FOR EACH HIVE, WITH 4 IN 2021 WE ARE DOING GOOD. WITH 8 TOTAL PER HIVE IN 2022, WE WILL KNOW IF WE NEED MORE FOR 2023.
IT SEEMS CRAZY TO THINK THAT FAR AHEAD, BUT THE TIME WILL CONTINUE ADVANCING, OF THAT I AM SURE. WHY NOT GET TO THAT TIME WITH THINGS ROCKING AND SUPER COOL ?
I HAVE TRIED TO DO BEEKEEPING, ON OR FROM, JUST ONE OR TWO HIVES. IT HAS NEVER WORKED AFTER 3 OR 4 YEARS, AND BELIEVE IT OR NOT, I HAVE NEVER SEEN ANYONE PULL IT OFF, WITHOUT HAVING TO BUY OR GET MORE BEES LATER.
I NOW KNOW THAT IF I HAD NOT WORKED PRO IN ALBERTA IN 2020, I WOULDN'T KNOW WHAT I NOW DO SO THAT:
- 1 - I COULD BUILD UP WHAT WE NOW HAVE, AND
- 2 - I HAVE A GOOD IDEA OF WHAT TO DO TO STAY ROCKING.
WHEN I THOUGHT I COULD HELP YOU AND COMMITTED TO THAT IN NOVEMBER OR DECEMBER 2019, I HAD THE PERSPECTIVE OF A BEEKEEPER FROM MEXICO AND VICTORIA, VANCOUVER ISLAND. I HAD NO IDEA.
NOW I DO, AND I HOPE SOMEHOW YOU CAN PLAN YOUR TIME AND RESOURCES SO THAT WE CAN PULL IT OFF UNTIL IT BECOMES EASY FOR YOU.
IF AT ANY TIME, YOU WANT TO GIVE UP, OR STOP, LET ME KNOW. NO WORRIES, WE'RE COOL, AND I KNOW WHAT TO DO.
MY PERSONAL GOAL FOR 2021 IS STILL TO GET AT LEAST 25-50 KILOS OF HONEY AND DISTRIBUTE IT AMONGST FRIENDS AND FAMILY.
IF I SEE THAT IT IS TOO MUCH FOR YOU AND YOU CAN'T DO THAT IN 2021, THEN MY DREAM, PLAN, GOAL, IS TO GET MY OWN BEES HERE IN SPRING 2021, WE WILL SEE.
I KNOW YOU CAN DO IT, IT ALL COMES DOWN TO COMMITTING THE TIME AND RESOURCES, AND COMMUNICATION BETWEEN YOU AND ME.
OF COURSE I WISH YOU THE BEST, YOU ARE FAMILY AND I LOVE THE IDEA OF THE JUNCKS ROCKING.